Learning objective: Convert larger to smaller units using decimals to one place.
Today Year 5, used the game Temple run to help with converting length. I saw this idea on the wonderful blog of Mr Andrews – a wonderful resource full of great ideas for using iPads
The game provides fantastic opportunities to engage children while making links to numeracy as different numbers are generated at the end of each go. One of the scores is the length ran by the main character.
We started by looking at different measurements for length and what we need to do to convert mm -> cm -> m -> km.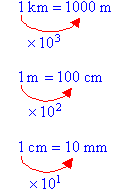 Once the children had established this relationship it was time to make sure the children knew how to multiply/divide by 10,100 or a 100. We used the ITP, Moving Digits, to help with this:
After looking at a few examples it was time to use the game to help us practise. The task was to take the score in metres and convert it into km and cm.
The children loved this lesson and we so much more engaged than if they were working from a textbook. It had them motivated to solve their problem quickly to get another go. They were able to demonstrate clearly their ability to convert lengths and multiply/divide by 10, 100 or a 1000.