This week Year one were able to transport themselves through time and get a glimpse of what they might look like when they are old and elderly.
To help them understand the way our face changes when we become really old we had fun using a fotobooth app to age a picture of ourselves. The app "Fotobooth 10in1 Lite" is a really straight forward app that can turn you into an alien, old, bald etc which certainly gave the children a chuckle or two as they reveled in their pictures as elderly people.
This was an example of how the app changed our face.
It was clear that the pictures were in no way flattering and a little bit scary however it sparked some excellent discussion with the class. We first started comparing the differences and listing some of the changes that we can see. This led us to then talk about what we wanted to be when we are older: what jobs would we like? Would they get married? Have children? Move to another country? Have pets? Drive?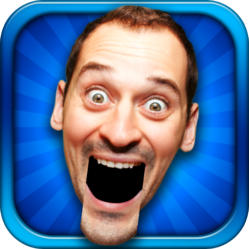 After sharing some of our ideas we then decided to make little animations to document some of our discussions. This was a superb speaking and listening exercise, we use the app "iFunFace," which is a very child friendly app for bring a picture to life. The app works through stages of selecting a picture, colouring the face, selecting the mouth and then recording a speech which is then mixed with the picture to create a funny animation. This app would be great for some hot seating exercise and an output for research about a particular character or person. Here were some of the examples from classes 1A and 1Y2:

Year 1 travel into the future and talk about what they will be doing when they are 70! from Davyhulme Primary School on Vimeo.